Before that, The International Organization for Migration's Missing Migrants website counted 1,166 migrants who had died or gone missing in the Mediterranean in 2023 (up to June 9). Annual figures have been rising since 2020.
More than 2,400 migrants died in the Mediterranean in 2022 as this crisis is once more intensified. In 2020, deaths (and movement on the route) had reached a low point of 1,449 deaths and missing persons. In 2016, a high of 5,136 people lost their lives in this way.
Back then, both the Central Mediterranean crossing to Italy and the Eastern crossing to Greece were used by a high number of migrants as the Syrian civil war caused people to flee and Africans, for example from Nigeria and Eritrea, undertook the arduous journey north to cross the central Mediterranean
According to the International Organization for Migration, the number of irregular migrant arrivals through the Mediterranean migration routes picked up again after reaching a low point in 2020. Almost 145,000 migrants traveling in boats across the Mediterranean have arrived in Greece, Italy and Spain last year.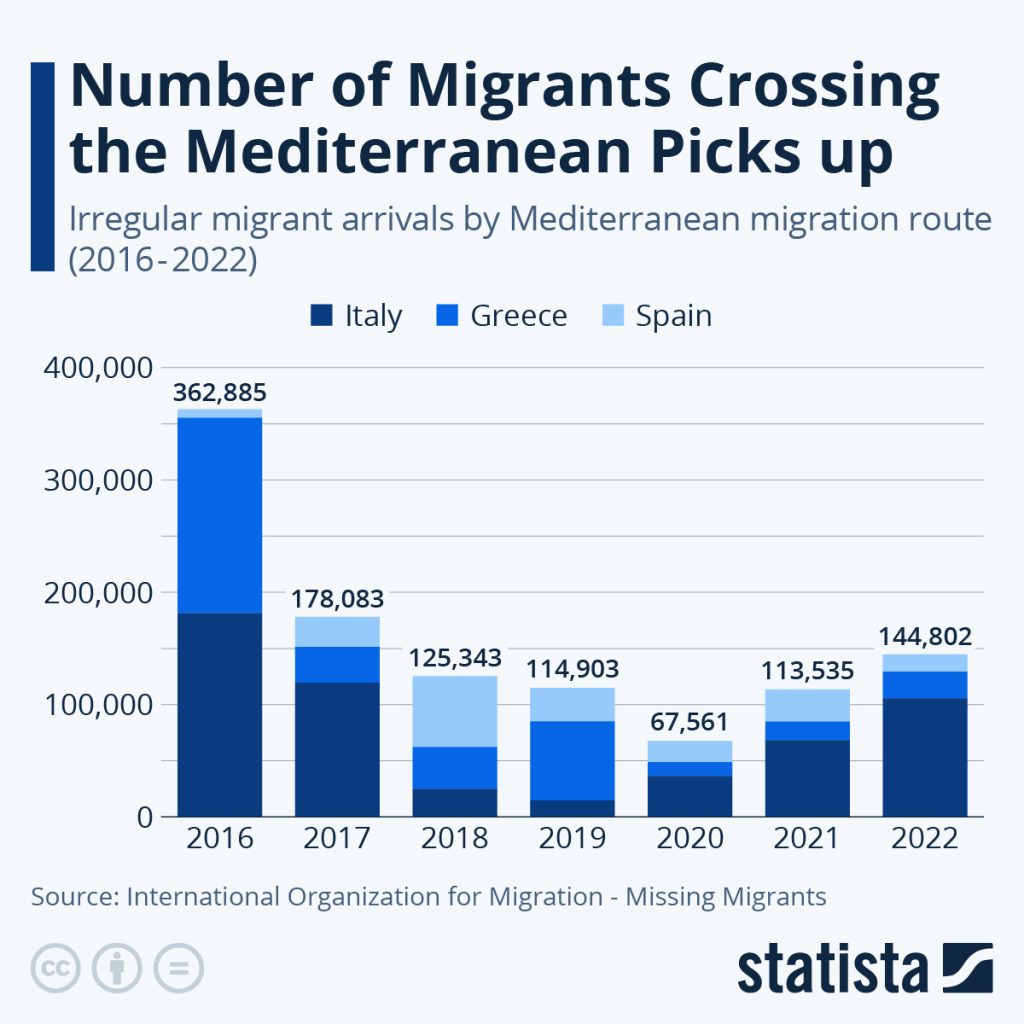 This number had reached a low of around 68,000 registered arrivals in the first year of the coronavirus pandemic. In 2016, the first year on record with the IOM, it had been as high as 363,000 – with many more crossing migrants likely having alluded the count.
The high number of crossings in 2016 was created by a combination of many migrants from African countries using the Central Mediterranean route to Italy and many people fleeing the Syrian civil war attempting the crossing on the Eastern Route to Greece at the same time. In more recent years, the focus has been on the Central crossing to Italy and also to the island nation of Malta.