About 1,000 migrants arrived on the Italian island of Lampedusa over the weekend after embarking on dangerous journeys crossing the Mediterranean Sea by boat. Another 700 were saved by NGOs operating at sea. Meanwhile, several deaths were recorded off the Tunisian coast.
On Saturday (August 12), a total of 718 people reached the small Italian island of Lampedusa on 27 boats.
A day later, another 270 people were intercepted and taken ashore by the Italian coastguard in six vessels, according to German news agency dpa. The Associated Press (AP) said the number of arrivals on Sunday was actually closer to 400.
In total, more than 60 boats reached Italian soil over the weekend, according to AP, including a number of boats reaching smaller islands such as Pantelleria, where 250 migrants managed to set foot without need of rescue on Saturday, and Marettimo, a remote fishing island off western Sicily.
The Italian coast guard meanwhile also recovered a man's body from a shipwreck near Marettimo, according to Italian state TV, while another person from the same shipwreck was declared missing.
According to Italy's ANSA news agency, the migrants arriving in Italy at the weekend had traveled from Congo, Ivory Coast, Burkina Faso, Cameroon, Guinea, Nigeria, Senegal and Mali.
They were all reported to have departed from the Tunisian coastal towns of Sfax, Gabes and Mahdia, located at least 130 kilometers west of Lampedusa, said dpa.
Read more: 'The waves swallowed our mates,' recount shipwreck survivors
NGOs save nearly 700 lives
Meanwhile, the private Ocean Viking NGO rescue vessel saved 623 lives during 15 operations within 48 hours, according to its parent organization, SOS Mediterranee. 
There were 15 children and 146 unaccompanied minors in the group, the organization added, highlighting that the migrants and refugees came from Sudan, Guinea, Burkina Faso, Ivory Coast, Benin and Bangladesh.
Most of those rescues reportedly took place between Sfax and Lampedusa, according to a statement on X, formerly known as Twitter. 
While some of those rescued were allowed to leave the ship on Lampedusa, more than half disembarked in Sicily as part of a coordinated effort with Italian authorities.
Ocean Viking crew members meanwhile also recovered a body from a shipwreck off the western coast of Sicily.
A rescue boat operated by the NGO Emergency meanwhile already rescued 76 migrants on Thursday, which had capsized in international waters within Malta's search-and-rescue zone.
The migrants in that rescue operation were one of the few groups which had set out from Libya instead of Tunisia, and were reported to be Egyptian, Syrian, Ethiopian and Eritrean nationals.
Emergency added that there were seven women and 24 minors in the group, with the youngest child only seven months old.
Facilities on Lampedusa beyond capacity
With this proliferation of arrivals, Italian authorities are once again scrambling to find facilities to care for the migrants and refugees reaching the country's coast.
The migrant reception center on Lampedusa, which is where the majority of newcomers arrived at the weekend, has been suffering from overcrowding for weeks, as thousands of migrants have attempted to reach Italy during the summer months. Locals have repeatedly expressed their dismay at the perceived failure of Italian authorities as well as the EU to invest more effort into managing migration numbers there.
Last month, UNHCR and UNICEF visited the hotspot facility for migrants on Lampedusa, saying that more support was needed, in particular for vulnerable refugees and unaccompanied minors. 
Currently, Lampedusa hosts more than 2,000 people despite having sufficient facilities for only 450. More than a quarter of the small island's population are presently believed to be made up of migrants and refugees.
Italy meanwhile has announced plans to transfer hundreds of migrants to the southern island Sicily by ferry.
Read more: Italy: Migrant shipwreck off Lampedusa leaves 41 dead
Deaths off Tunisian coast
Meanwhile on the other side of the Mediterranean Sea, at least two Tunisian nationals are reported to have died when their boat sank near the country's shores on Saturday, the Tunisian coastguard said. One of them was reportedly a baby, the other a 20-year-old man.
Five passengers were reported missing at the time of the coastguard's announcement while 13 others had been rescued, including the baby's parents.
The vessel carrying 20 Tunisians had only got about 120 meters from the coast in Gabes when it went down, the coastguard said. Witnesses claimed that those on board mistook a trawler for a coastguard vessel, causing the boat to capsize during an attempt to turn around.
They added that the baby reportedly became stuck in nets on deck. An investigation has been launched.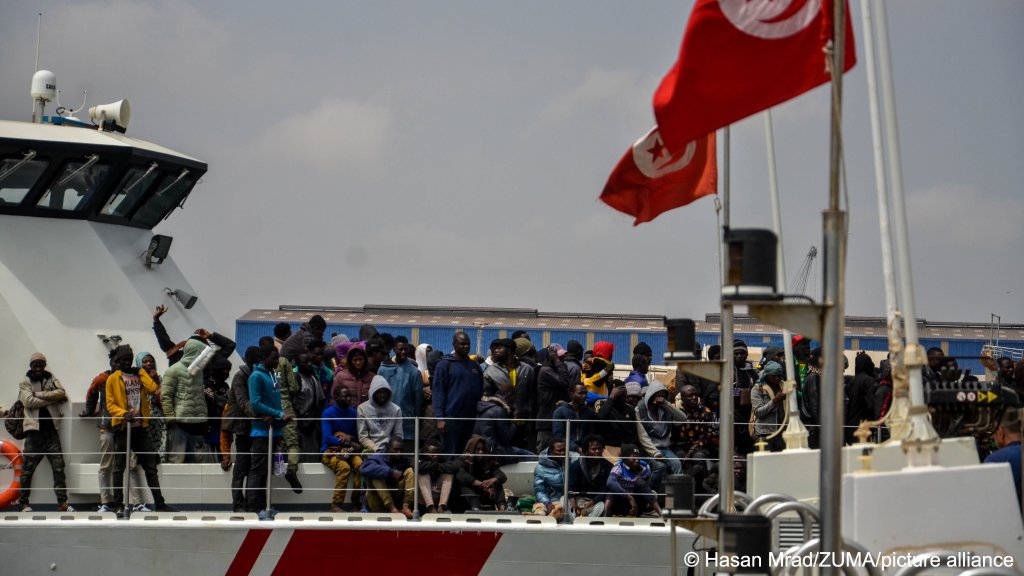 In an unrelated development, judicial officials in Tunisia also reported the deaths of 11 migrants in a shipwreck off Sfax, with dozens more thought to be missing on Monday morning.
Read more: Sub-Saharan Africans flee violence in Tunisia: Departures from Sfax on the rise
Nearly 100,000 arrivals in Italy so far this year
Since the beginning of August, a series of migrant boats have capsized, been shipwrecked or otherwise run into distress, as people continue to head to Europe in the hopes of a better life.
More than 96,300 people have reached Italy using these routes across the Mediterranean so far this year. This is more than twice the corresponding number from last year, according to the Italian Interior Ministry in Rome. Most migrants coming to Italy in 2023 hail originally from the Ivory Coast, Guinea and Egypt, with Tunisian nationals taking up fourth place.
The Tunisian coastguard says it intercepted around 34,300 migrants in the first six months of the year, compared with 9,217 migrants over the same period in 2022.
Meanwhile, more than 1,800 people died so far this year in shipwrecks on this migration route, which has been described as the world's deadliest. According to the International Organization for Migration (IOM), the number of dead is more than double compared to last year.
🎧 Listen to the podcast: Tales from the Border podcast: Sicily, an island of migration
With AP, AFP, dpa